Benefits of using a backplate for your sign.
The use of a backplate either aluminum or acrylic make installations very easy. We will design fabricate and ship you the most awesome corporate sign that you will be very pleased with.
You will be surprised of our designers' abilities to present your logo in 3D. Digital printing 3D effects incorporated in your design, really does make it look very dimensional and it is less money than real dimensional fabricated pieces that fit over top of each other, we use pvc substrate or acrylic combined with printed vinyl cut to match your design.

---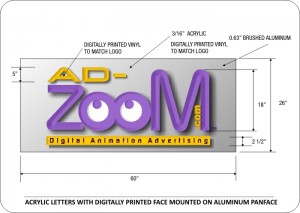 ---
1. Installation is so much easier!!
If you plan to order a reception sign and install it by yourself, then order one with a backplate!!!
---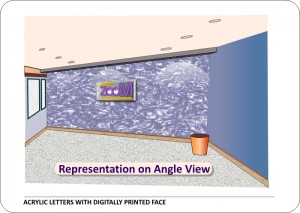 ---
2. Can be easily relocated.
A sign that is mounted on a backplate can be easily moved to a new location. When a sign is installed directly to the wall and it will have to be relocated in the future, it is vulnerable to break.
---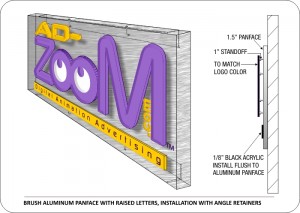 3. We put your sign together for you.
When a piece breaks and is replaced with a new one can many things happen that will make the sign look patched. If the sign is an outdoor sign, you will have pieces affected by sun discoloration, so the new piece will end up being a different color. Some other times sizes are not matched exactly or material thickness.
If you think that your sign will be relocated in the future, order a sign with a back plate and don't take the chance of losing one piece at the time of removing your individual logo pieces or letters from your wall.